Sessions – Create immersive webinars & demos | AppSumo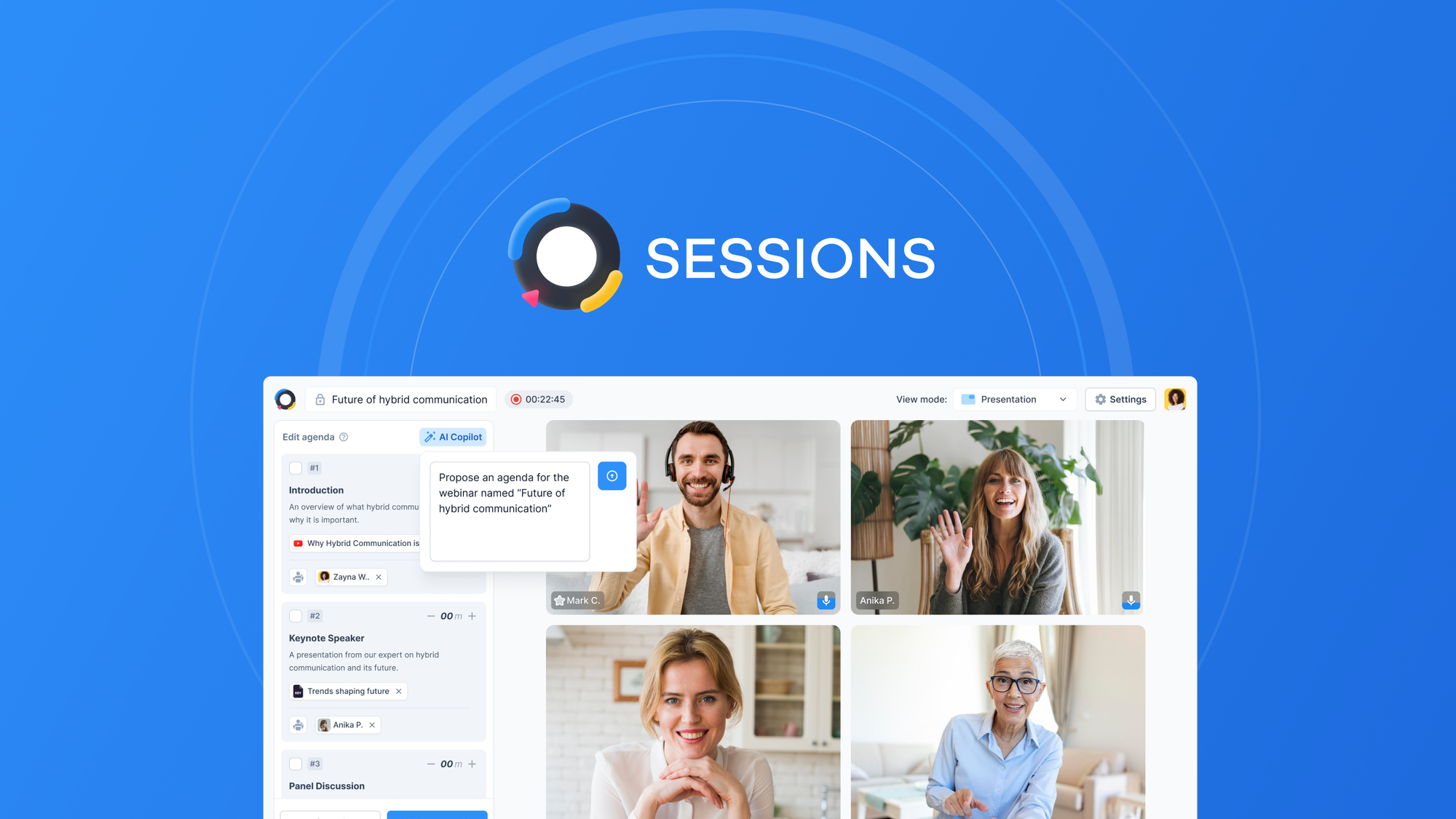 60 day money-back guarantee. Try it out for 2 months to make sure it's right for you!
It's hard to tell if you're connecting with your virtual audience when you're streaming to a bunch of mic-off, camera-off squares. ("How are y'all doing tonight?! …Still there??")
If you want people to engage with and retain info from your webinars and product demos, you're gonna need to do more than just show up on video.
You need an AI-powered meeting platform that makes it easy to create, manage, and present interactive video experiences that delight attendees.
Jump into Sessions.
Automate tedious tasks like creating agenda drafts and transcriptions using the AI-powered copilot
Manage your entire organization's meeting lifecycle from bookings to large webinars with just one subscription
Alternative to
Google Meet
Microsoft Teams
Zoom
Canva
Google
Miro
Notion
Office 365
Overview
Sessions lets you add an interactive agenda to your meeting space and embed important apps and files, so everyone is literally on the same page.
This means you'll be able to control discussions and host meetings with focused, clear outcomes.
You can also share your meeting agenda with your team, making real-time collaboration a total breeze.
Plus, you'll be able to save meeting agendas as templates that you can easily access and reuse for future sessions.
Use the interactive agenda feature to keep attendees on task and share relevant files.
Using the awesome immersive video conferencing feature, you can build customer rapport and foster a personal connection with your attendees.
Take your product demos to the next level—allow users to "control" the mouse and interact with your product for a more hands-on experience.
Say goodbye to awkward screen-sharing! You'll be able to integrate tools like Google Drive, Miro, Figma, and Canva into your meetings for stress-free collaboration.
You can also add videos, docs, whiteboards, websites, quizzes, polls, and breakout rooms in your live webinars and workshops, so folks stay engaged the whole time.
Boost viewer engagement with interactive elements like whiteboards, polls, and breakout rooms.
Sessions also has an AI-powered copilot that can generate agenda drafts in seconds! You can edit the draft to fit your needs or run it through AI again for more ideas.
The AI copilot can automatically transcribe meetings and workshops, neatly organized with time stamps and speakers.
Use live transcripts to make it easy for your speakers and attendees to follow along—no matter where they're calling in from.
And since you'll be able to automatically capture meeting notes and summaries, you'll know exactly what to do when the meeting's over.
The AI copilot accurately identifies spoken language and automatically transcribes meetings, so everyone can follow along.
You can also sync your calendar to Sessions, which allows customers to schedule meetings based on your real-time availability.
This platform lets you generate booking links in custom formats and time allotments. You can even pre-load agendas and presentation materials for each meeting.
Inviting attendees to your meetings is a breeze! Just send automatic email invitations and calendar invites, or start a session from Slack, your calendar, or your browser.
Plus, you'll be able to design custom event pages and registration forms to create a cohesive branded experience.
Trying to capture your audience's attention can feel like you're performing a complicated magic act. ("Now you see me, now you…don't.")
Lucky for you, Sessions gives you access to tons of powerful features, so you can create, manage, and host customer-facing video content—all from one platform.
Upgrade your virtual meetings.
Get lifetime access to Sessions today!
Deal terms & conditions
Lifetime access to Sessions
All future Pro (Tier 1-4) or Business (Tier 5) Plan updates
If Plan name changes, deal will be mapped to the new Plan name with all accompanying updates
No codes, no stacking—just choose the plan that's right for you
You must activate your license within 60 days of purchase
Ability to upgrade or downgrade between 5 license tiers
GDPR compliant
Only for new Sessions users who do not have existing accounts
60 day money-back guarantee. Try it out for 2 months to make sure it's right for you!
Unlimited sessions
25 speakers on screen
Embed files and resources
Landing pages
Interactive agenda
Co-browsing
Calendar
Custom branding
Cloud recording
Bookings
Sessions
Lifetime deal
-96% $49
$1,200
Select a plan
License Tier 1 : $49 $1,200
License Tier 2 : $99 $2,000
License Tier 3 : $199 $5,000
License Tier 4 : $399 $8,000
License Tier 5 : $699 $10,000
60 day money-back guarantee. Try it out for 2 months to make sure it's right for you!